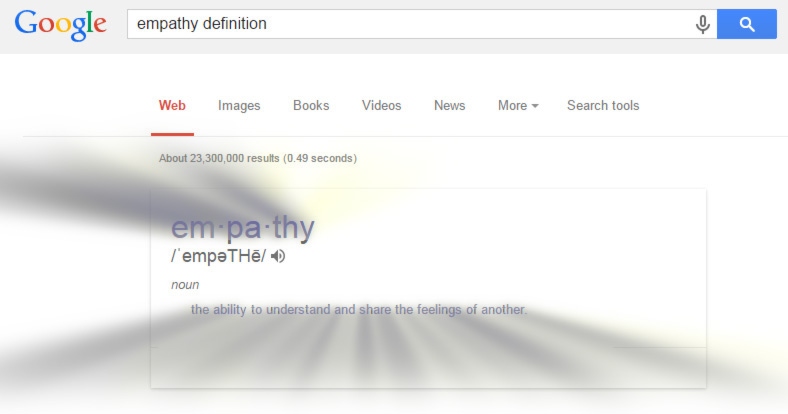 Empathy. The only morality indigenous to the human race that predates civilization and is simply our ability to see through another person's eyes. To feel what they are feeling. To project ourselves into their situation. And further still, to see ourselves as they might be seeing us?  To illustrate the power of this, try to picture your face as it may have looked from the outside the last time you yelled at someone, or cried, or laughed. If you can't picture it, try it in the mirror ~ It's pretty impactful. This is an instinct, which when undamaged, defies moral relativism, ideology, or even self-delusion. It is sublime symbiosis and is the purest vulnerability of which we are capable.
This is true Empathy and the mother of all morality.
Wherever it flourishes, this commonality of our physical and emotional humanity prevents cruelty and injustice, ensures fairness and compassion, and simply put: creates a better world. It is the very foundation of human love. Love without empathy is not love, it is a phantom limb, a shadow of the real thing.
So potent is this impulse that even relating a story about the suffering of another can induce physical symptoms in the listener as though experiencing the pain first hand. One has only to watch a child live vicariously through the character in a story to see it at work. We are born with it and its efficacy is fortified by our upbringing.
Knowing this fact, how much worse must it be for combat troops who are forced to experience the suffering of others, even while engaged in the act of harming them. Is it any wonder that soldiers return from war with PTSD? It is literally necessary to beat the empathy out of recruits in order to force them to deny their natural aversion to harming others. Boot camp is an object lesson in how to break down a person's level of empathy and requires rigorous systematic conditioning and induced mental illness to achieve. This is necessary to circumvent our beautiful wiring for connectedness. Empathy, Sympathy and Love come naturally.
No imagination is required. No further teachings are necessary.
If your child suffers a fall and is injured. Empathy is engaged and that feeling in the pit of the stomach is immediate. Empathy functions instantaneously, instinctively and without effort. First action must be attending to the pain. Simply because ~ It hurts.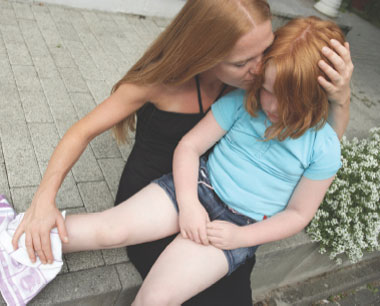 Any reproof, or remonstration concerning the cause of their suffering can not even be heard until the pain subsides. This is our basic capacity. Empathy doesn't need to be taught this.
This is the wellspring of all goodness as we know it. The concepts of devotion, vocation and holiness have been commandeered by religious and other ideologies to express proper adherence to a specific man made dogma. This is intended to bring us beyond our limitations as human beings, but why? We need only listen to what we came into the world fully equipped with.
Humanity existed long before there was language, before there were stratifying beliefs beyond living for the benefit of the group. If devotion and holiness are to have any meaning at all, it must be in the unwavering commitment to look out from the eyes of all that you meet. To engage our empathy beyond our social groups.
The ability to harm each other can only occur when we stray outside these instinctive limits. When we value that which we cannot connect our empathic senses to. Our vain attempts to uphold superimposed values that separate us go against our basic instinct. The only concept of the sacred that has ever helped our species has been through our a connection to others, as felt in our own viscera.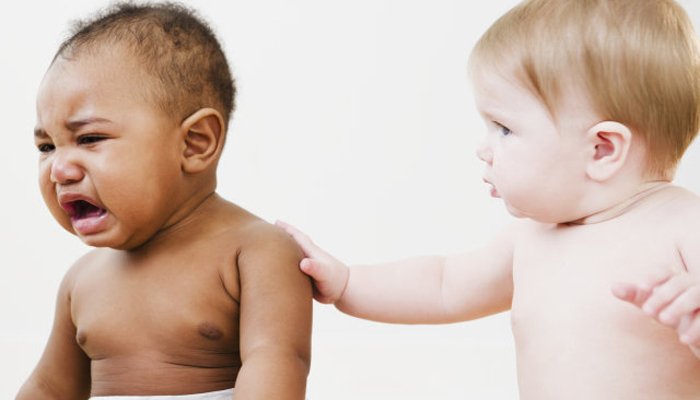 With all due respect, forget faith, forget dogma, forget laws; for they forget you the moment real life intervenes to steal your food, cause bodily injury, or harm your loved ones.
We forget that we made all the laws that we are supposed to follow, but we are consistently fallible.
There is no getting around this simple fact. Whatever your beliefs: Humans physically wrote every holy book ever written, built every temple ever prayed in, killed every heretic ever slain. Yet somehow it is supposed to change more than one hundred thousand years of instinct. Five minutes, and a image search on war, abuse, crime and starvation will prove incontrovertibly the futility of ideologies as a means to constrain our behavior.
We forget that all man made laws are ideals and govern only when there are ideal conditions.That is why both secular and religious laws so often fail! There are no courts of law on the battlegrounds of the world.
Our society is addicted to retribution and yet punishment fails consistently to engender remorse, or even change behavior, if rates of recidivism are to be believed.  Only empathy can prevail with least possible harm in the heat of conflict, where moral ambiguity, training, or abuse has short circuited the cause of compassion. If harming another felt like harming yourself, we simply would not do it. This is the true power of empathy.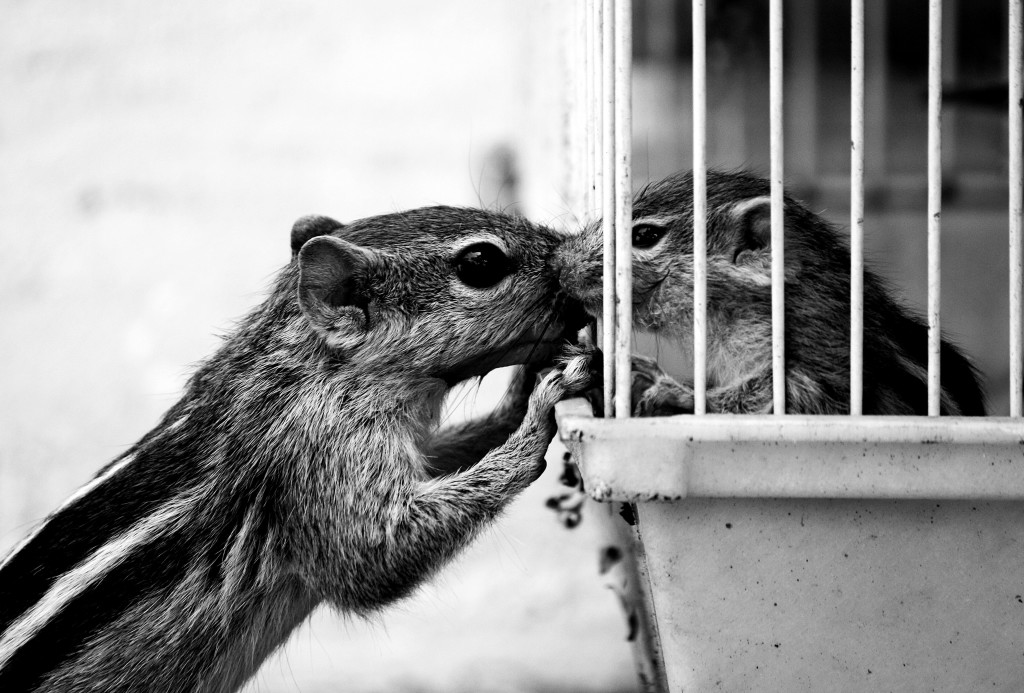 It is the mother of human truth. A sensate morality enervated by compassionate self-awareness. A useful and connective tissue which binds all living things. It gives birth to our humanity then nurtures and protects it. It is the first thing we are taught to discard when told to act in self-interest. Yet, we survived the great evolutionary gauntlet on the basis of one fact: We experienced the needs of others as our own. As individuals we would not have lasted long against creatures with superior venom, claws or fangs. We have erroneously attributed our survival to intelligence alone. But working as a community of emotionally and physically connected mammals, we were and are formidable.
Only empathy has that power.
Everything else leads us away from ourselves, each other, and coexistence.
---
If you want to test the truth about Empathy as the only path to morality
then try these google image searches:
War Crimes,
Domestic Abuse,
Animal Cruelty,
Starvation.
Ask yourself it these atrocities could happen if we taught Empathy.
Defined by Dictionary.com:
What is the difference between empathy and sympathy?
Both empathy and sympathy are feelings concerning other people. Sympathy is literally 'feeling with' – compassion for or commiseration with another person. Empathy, by contrast, is literally 'feeling into' – the ability to project one's personality into another person and more fully understand that person.
noun
a sensation experienced by someone who has had a limb amputated that the limb is still there.

Link 1
"We learned flame throwers, which if you haven't you don't know what hell is, and how to burn the enemy alive. Again, that sense of power. We learned to use white phosphorus, WP, Willy Peter or other names less printable, to cover enemies in burning goop that you can't put out. We learned to be what human beings shouldn't be. We felt an exhilarating freedom, of not being subject to moral constraints. We learned to suppress conscience, morality, and empathy. This, more than the use of weapons, is the goal of military training."
Link 1
,
Link 2
Perspectives on bonding and the role of empathic connection.
Link 1
Recidivism statistics.
Link 1
Punishment immunizes people against empathy by engendering a loss of affect.
Link 2
Repeated experiences of punishment and other types of chronic trauma may cause dyscontrol (loss of control over hostile impulses). ….A study of Nazi physicians by the American psychiatrist Dr. Robert Lifton concluded that it is almost impossible to kill another human being without first becoming psychically numb.  Guilt and empathy for others are two of the key emotional forces that regulate an individual's self-control over aggression; they are a counterforce that restrains violent impulses. (Theodore L. Dorpat in Crimes of Punishment: America's Culture of Violence. pub 2007),
Link 1